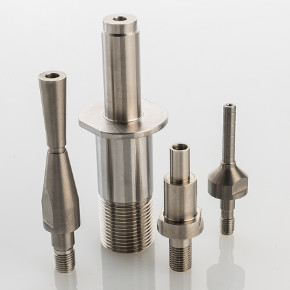 For internal grinding arbors and quills, Fischer Special Tooling is the leader for precision custom grinding applications. As a tooling company, our engineers work closely with our customers to design and manufacture high performance and cost-efficient internal grinding quills and arbors. Fischer Special Tooling can produce the precision tooling you need in solid carbide, solid tungsten (no-chat heavy metal) or a combination of metals. Our experts will recommend the most effective quill geometry and material type that offers the best solution for your internal grinding process.
With over 50 years of experience, we'll design a custom ID grinding quill for your production bore grinding application that provides you with the lowest cost per part possible. We can provide precision ground threads and close tolerance journal diameters with minimal runout to produce the optimum interface with your grinding spindle.
We can also include precision balancing for higher RPM applications to reduce grinder vibration. We are dedicated to providing the tooling, knowhow and experience to help you get your process running as efficiently as possible. For increased production and less downtime when using precision internal grinding quills, choose Fischer Special Tooling.