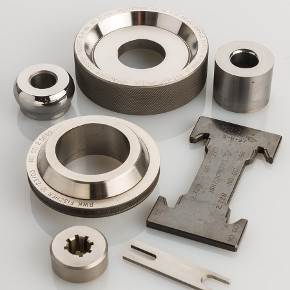 When it comes to the inspection process, don't leave your precision tooling and gages to just any tooling manufacturer. Fischer Special Tooling is the only tooling company that offers over 50 years of experience in designing and producing custom form gages and tools. Whether you choose solid carbide, brazed carbide, or tool steel, Fischer Special Tooling can provide precision tooling with custom geometry and the appropriate tolerances for your specific Go/NoGo or fit gaging needs.
Typical inspection processes that utilize our gages include:
Spline gages
Go/NoGo step plug gages for checking close tolerance bores
Go/NoGo snap gages for checking close tolerance ODs
Go/NoGo dovetail gauges
Fitter gages to check specific contours or angled features (such as mould equipment – blank moulds, baffle plates, and neck rings – for the glass container industry).
Other gaging applications include concentricity gages for stepped bores on precision machined components, true position gages, taper pin gages, and a variety of other functional gages used to check precision metal products. We can finish grind or EDM to tolerances within ±.000080" (.002mm)
Our engineering staff will work closely with you to create the most cost-effective, custom-geometry hard gaging solution for your application. We can provide the most accurate custom-shaped gages using our certified methods. This will provide you with the lowest inspection cost per part. Fischer Special Tooling also offers third party N.I.S.T. traceability certification, as well as gage tracking and recall services for ongoing recertification needs. For high performance precision tooling and custom form gages, count on Fischer Special Tooling for the best tooling and customer service at competitive prices.