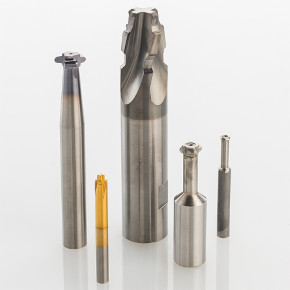 Your application is challenging and the timetable nearly impossible. That's why you need Fischer Special Tooling. We are experts in designing and manufacturing form milling cutters and helping to make your operation as efficient as possible. Our engineering staff will work closely with you to create the most cost-effective high-performance custom cutting tools to make your operation run smoothly. Fischer Special Tooling can produce a custom shape—regardless of how complicated the geometry—in solid carbide or as an insertable tool.
Typical machining processes utilizing our form milling cutters include:
internal ball nut track milling using a Gothic Arch form cutter
external rotary milling of threads on fittings made of difficult-to-turn materials (such as no-lead brass)
internal thread form milling on neck ring molds for the glass container industry
internal rotary recess form milling, groove milling, full radius milling, chamfering, bore milling, thread milling, and face milling
Staggered flute forms, unequal index fluting, radial and axial rake, and through-the-tool coolant delivery are all available and can be applied to your custom form milling application as needed. Our unique grinding process allows for both radial and axial clearance while maintaining the most repeatable form possible from flute to flute. This provides you with aggressive rates of material removal, and superior surface finish and form accuracy on your final product.
Don't waste time and dollars with inferior tooling that will only reduce your output. Count on our expert engineers and manufacturing staff to design and create the custom form milling cutters necessary to increase your production and reduce downtime. We will design and create the most repeatable tooling components and highest precision ground form geometries possible using our exclusive Swiss profile grinders. Our goal is to partner with you to get your process running as efficiently as possible.